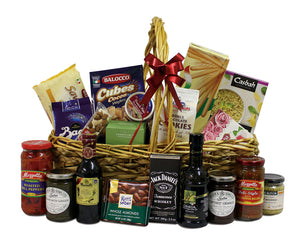 Star of the Show
Gaia Food
Need to say thank you in a big way?
A gift that will stop them in their tracks. This bountiful gift filled with international gourmet and handcrafted confectionery is ideal to make a big impression. Would be a great sharing gift packed full of sweet and savoury delights.
Why they'll love it:
Henaff French Pork Pate, Hazer Baba Turkish Delight, Baci Italian Original Dark Chocolate, Casbah Canadian Organic Couscous, Goldkenn Swiss Liqueur Chocolate, Verduijin's Famous Savoury Crackers from Holland, Colavita Italian Extra Virgin Olive Oil, Balocco Italian Savoiardi or Amaretti, Grissin Bon Italian Breadsticks, Mezzetta Nappa Valley Zesty Bell Pepper Relish, Mazzetti Liberty Italian One Leaf Balsamic Vinegar, Ritter Sport German Nut Chocolate, Vital Belgium Nougat Supreme, Balocco Italian Wafer Cubes, Merba Decadent Double Chocolate Cookies, Beaufor French Dijon or Whole Grain Mustard.
All displayed in a large handcrafted gift basket with bow and recycled fill.
Star of the Show GBSKSS
 If a product is unavailable, we will substitute it for another item of the same or of greater value. Photograph is not necessarily an accurate depiction of the final gift basket.