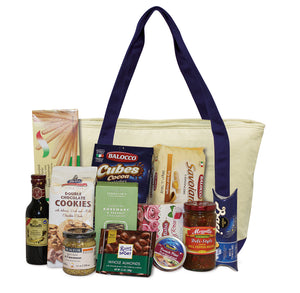 Bag of Plenty
Gaia Food
The perfect gift, the Bag of Plenty gift hamper is a large premium calico cooler tote bag filled with international luxury goodies that are something special.
Featuring a delicious selection of savoury and sweet classic gourmet goodies. This hamper will delight the senses of your clients, staff, family or friends.
What's inside:
Henaff French Pork Pate, Hazer Baba Turkish Delight, Baci Italian Original Dark Chocolate, Verduijin's Famous Savoury Crackers from Holland, Balocco Italian Savoiardi or Amaretti, Grissin Bon Italian Breadsticks, Mezzetta Nappa Valley Zesty Bell Pepper Relish, Mazzetti Liberty Italian One Leaf Balsamic Vinegar, Ritter Sport German Nut Chocolate, Balocco Italian Wafer Cubes, Merba Decadent Double Chocolate Cookies, Beaufor French Dijon or Whole Grain Mustard.
Bag of Plenty GBAGBP
 If a product is unavailable, we will substitute it for another item of the same or of greater value. Photograph is not necessarily an accurate depiction of the final gift hamper.